"A Bridge Too Far" Arnhem ASL Tournament 2007 - Battlefield Tour
---
This year there was no organized Battlefield Tour. So Robert Maglica and myself went on a little trip down to the Ardennes before the tournament this year. We drove from Sweden down to Spa in Belgium the day before the tournament (Wednesday). Then on Thursday morning we drove down to Stavelot and from there we took the route that Kampfgruppe Peiper took in December 1944: Stavelot – Trois Ponts – La Gleize – Chenaux – La Gleize – Stoumont – Targnon – past Targnon to the Stoumont railway station to furthest point the Kampfgruppe advanced in 1944.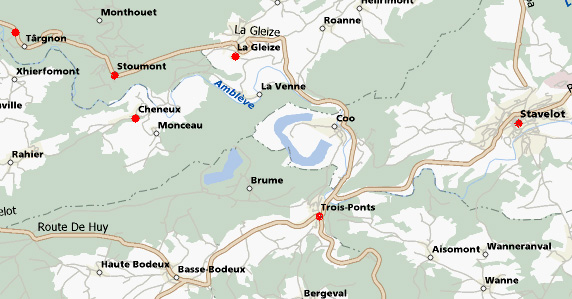 Map of the area traveled.


Stavelot
Reached by lead elements of KGP on the evening of 17th December 1944.



Trois Ponts
U.S. Engineers blew the Amblève river bridge as KGP was approaching the village.


La Gleize
Next stop for KGP after the bridge was blown at Trois-Ponts.


Cheneux
Peiper sent his troops through this village towards another bridge beyond the village that was also destroyed as they approached.


Stoumont
Entered by KGP on 19th December 1944.


Stoumont Railway Station
The furthest advance of KGP past Stoumont in December 1944.